Trailer Talk: Bollywood – November 2013
For those not familliar with the "Trailer Talk" feature here at Blank Page Beatdown:
"Trailer Talk" is where I document my freak outs regarding upcoming films that I get super excited about. Or rip apart with my super critical bionic eye. It's also an attempt to feature some films that may not get the attention they deserve prior to release, but movies definitely worth keeping an eye out for. Not the bionic one. Sometimes I make predictions, and we get to see if I'm right or wrong after the movie releases."
Krrish 3 – Releasing November 3rd, 2013
http://www.youtube.com/watch?v=3yCSOG3uYes
Commercially: Major Box Office success! KRISSH 3 is unlike any other superhero movie that India has produced, (there have been what, 3?) so it will definitely break records and expectations all across the board. Despite any technical shortcomings, KRISSH 3 is still a monumental film by Bollywood standards, and the earnings will reflect that.
Critically: Regardless of any issues with storytelling, over acting by the actors, or continuity issues and / or plot holes in the story, it should be entertaining enough to dismiss all those problems. Some suspension of disbelief and forgiveness may be required.
My Rant: KOI MIL GAYA borrowed heavily from E.T & ENCOUNTERS OF THE THIRD KIND. KRRISH had certain elements from PAYCHECK. The Trailer for KRRISH 3 shows us a lot of other 'borrowed' elements, like opening credits similar to THE DARK KNIGHT, thematic music like THE DARK KNIGHT RETURNS, a villain with the apparent ability to control metal, etc. However, like its predecessors, here's  hoping those borrowed elements are incorporated into an original, and most importantly, an entertaining story.
Krrish 3 Official Site
Krrish 3 on Facebook
Krrish 3 on Twitter
Ramleela – Releasing November 15th, 2013
Commerically: Moderate to Good Box Office. The star power behind the film should attract audiences. Add to that the vibrant colors and beautifully choreographed  songs that should make for amazing marketing material. If the soundtrack is good enough then that should be enough to deem RAMLEELA at least a moderate success at the Box Office.
Critically: The contradictory nature of the Trailer is room for concern. It's unclear whether the film will be a light hearted love story, or a dramatic film about war between families in a romantic setting. Bhansali is known for satisfying, if not riveting screenplays, and having penned this himself as well, there's no reason to doubt its amazing-ness. Until the release at least.
My Rant: RAMLEELA has the vibrant colors and cinematography of DEVDAS, the chemistry between the lead like HUM DIL DE CHUKE SANAM with the dull intensity of BLACK, as brief as those scenes are, and it seems like all those movies all at the same time. It's unlike most Bhansali flicks, and seems like completely unfamiliar territory for the Director, mostly with the action. As much as I want to like RAMLEELA, I am concerned for the type of movie this may turn out to be.
 Ramleela on Twitter
Gori Tere Pyaar Mein – Releasing November 22nd, 2013
Commerically: Wouldn't be surprised if GORI TERE PYAR MEIN does decent business. The fun and youthful tone of the film, its songs and star power will appeal to youngsters and a multiplex, not to mention all overseas audiences. The pairing of Imran Khan & Kareena Kapoor already proved a success in EK MAIN AUR EK TU, and the soundtrack is catchy enough that it's already stuck in my head.
Critically: Movies like this are usually best viewed through rose tinted glasses. A lot in the story might seem unnecessarily over the top and useless, but such is the genre in Bollywood. Barring any major plotholes (quite a big possibility) GORI TERE PYAR MEIN should be enjoyable at least.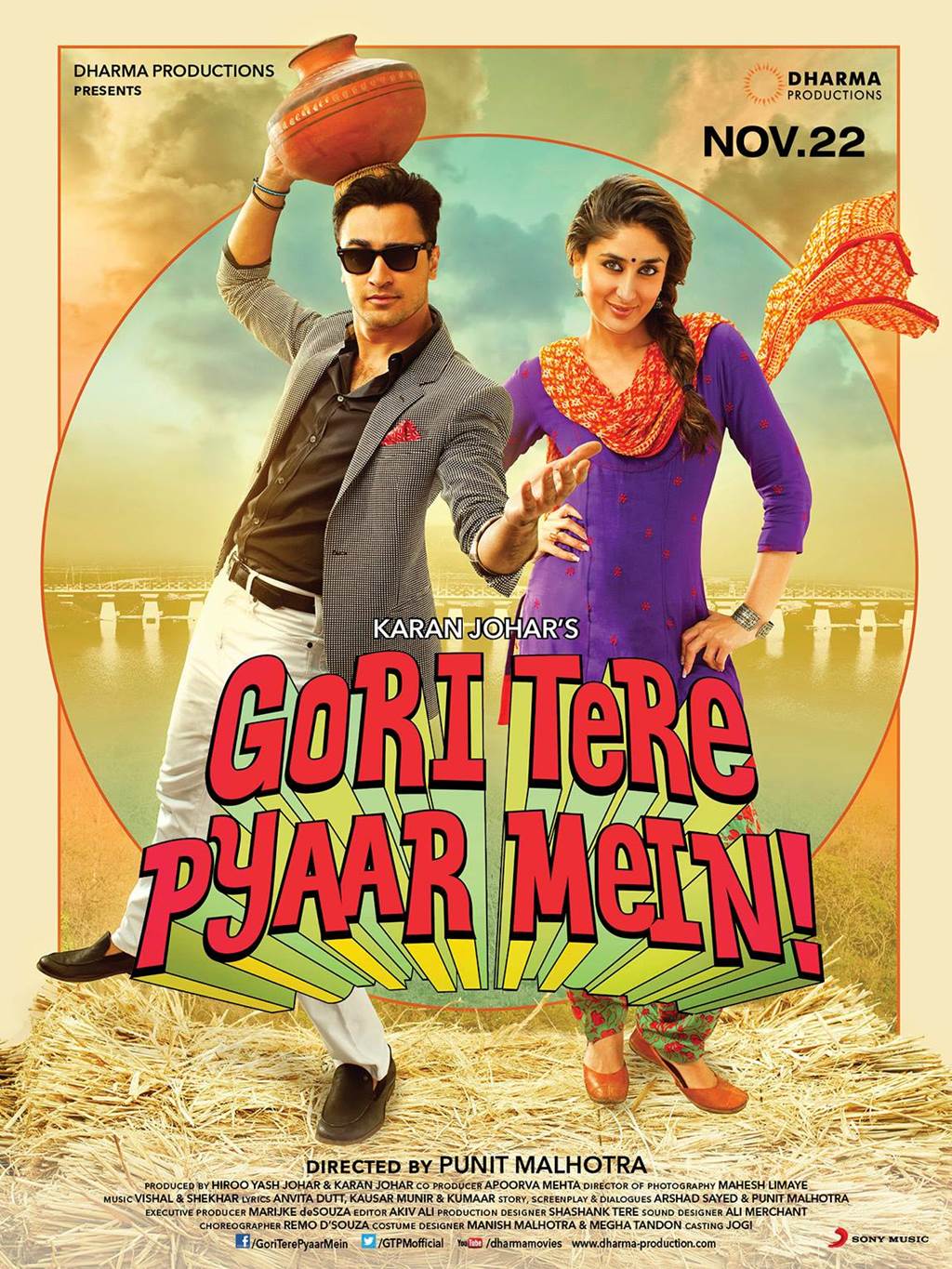 My Rant: I grow tired of Imran Khan's pretty charming boy routine, especially given that he's capable of much more. The movie seems to be a romantic SWADES. Girl wants to do good for her proverty ridden country, boy wants her attention, so takes part in her cause, and yada yada. It already feels formulaic from the Trailer and will most likely end up being so.
Gori Tere Pyar Mein on Twitter
These are all the movies from Bollywood that I'd like to check out in November 2013. Which one are you most excited for and why? Let me know below!